At Andrew's Coin & Jewelry, Inc., we buy and sell a wide variety of valuable products from the citizens of Delray Beach and all of South Florida. Our list of items that we are happy to buy range from jewelry, precious gems, a wide assortment of collectibles, memorabilia and much more. Above buying these items, we accept gold and silver of all qualities and conditions. You will always be sure to receive competitive prices from our staff of helpful professionals.
Buying And Selling Gold And Silver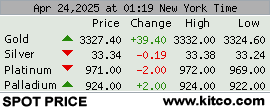 Gold and silver are at an all-time high, and other markets are down in value. Don't hesitate to cash in your precious metals now. No matter what form your gold is in, we will be happy to accept it. You may even sell your jewelry, whether it is old, broken or both. We will also be happy to buy precious gems.
Gold In Any Condition
10K, 14K and 18K Qualities
Bullion (coins and bars)
Chains
Class Rings
Dental Metals
Diamonds
Foreign Coins

British Sovereigns
Canadian Maple Leafs
Chinese Pandas
Krugerrands
Mexican Pesos

Jewelry (antique, broken)
Platinum
Silver
Watches
We at Andrew's Coin & Jewelry, Inc. look forward to offering the best in products and services. Contact or visit us today to learn more!
We'll Buy Anything As Long As It Doesn't Eat!